Skin Food with Yarok BODY Wash: Ingredients for Glowing Skin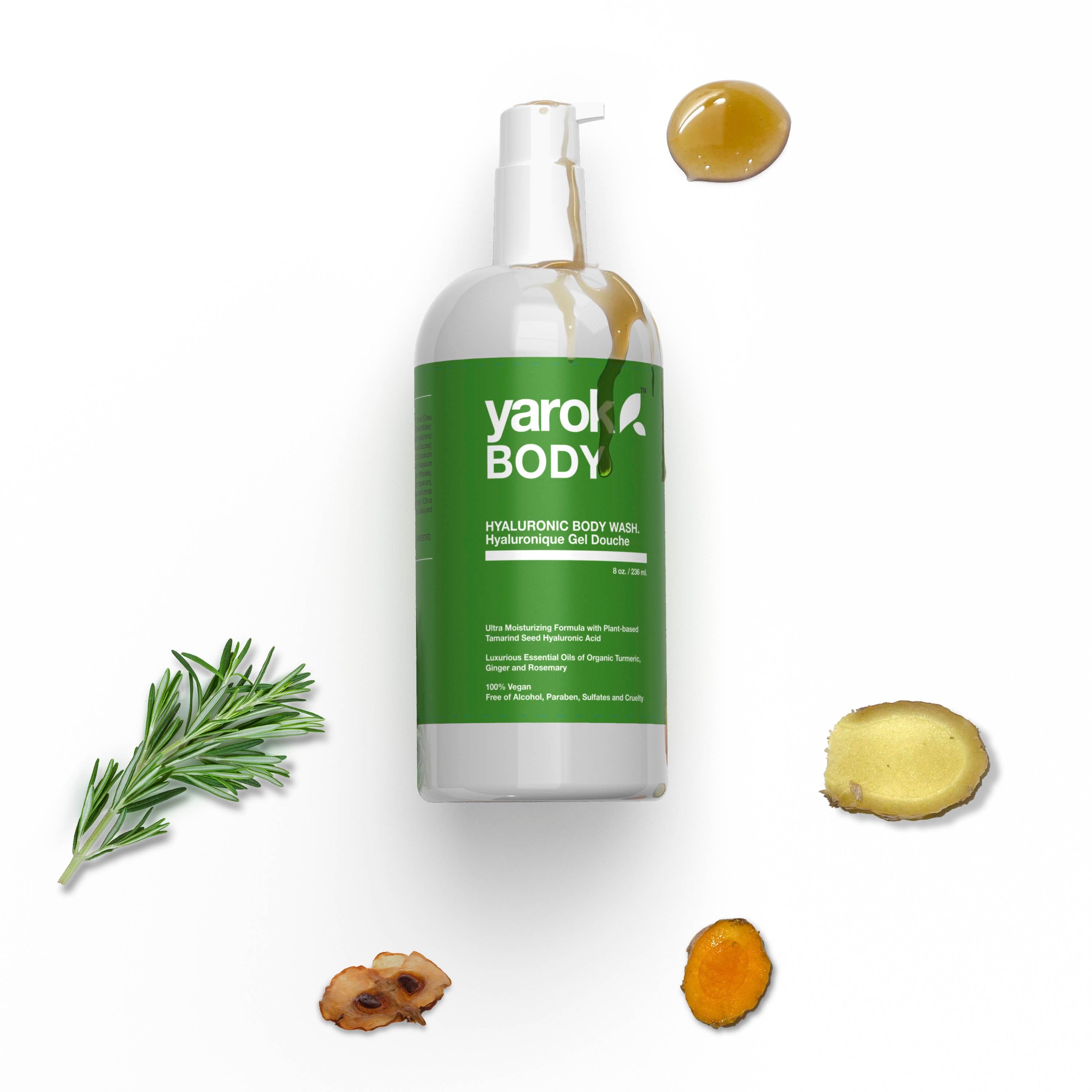 Luxuriate in the healing powers of Plant-based Tamarind Seed Hyaluronic Acid with Yarok BODY 
Make every shower feel like a spa day -- we're about to transform your daily rinse into a self-care ritual. Formulated with the healing power of Plant-based Tamarind Seed Hyaluronic Acid and the Organic essential oils Turmeric, Ginger, and Rosemary, this cleansing formula will retain your skin's inner moisture while removing all impurities. Enhance skin hydration, improve skin elasticity and feel like you are being taken care of as our therapeutic, invigorating blend of ten essential oils penetrates into the deep layers of the skin. This wholesome blend will have you feeling healthier than ever, while leaving your skin with a silky smooth touch.  
Luxuriate in our Ultra-Moisturizing formula, made with nature's finest ingredients. 
PLANT BASED TAMARIND SEED HYALURONIC ACID 
We bet you've heard of the beloved beauty ingredient, Hyaluronic Acid. Well, we've formulated our recipe to give you something even better. Meet Plant-based Tamarind Seed Hyaluronic Acid.
More nourishing. More powerful. & More Natural than traditional Hyaluronic Acid.  This luxurious botanical is rich in antioxidants to enhance hydration, improve skin elasticity, & leave the skin feeling silky smooth to the touch. 
Tamarind is highly raised as one of the most luxurious and beautiful trees in South East Asia, where it is used medically in Ayurvedic medicine and topically for holistic beauty. When compared with Traditional Hyaluronic Acid, research shows Plant-based Tamarind Seed produced a more hydrating effect, just 30 minutes after usage (1). In addition to skin hydration, skin elasticity and texture appeared to increase, showing a silky smooth feel. 
ORGANIC ESSENTIAL OILS OF TURMERIC & GINGER 
Is your skin feeling stressed and agitated? Leave it to the nourishing and Organic Essential Oils of Turmeric and Ginger to help fight inflammation. These natural herbal extracts will work to deeply moisturize and repair skin, helping to improving skin damage and appearance. Let your thirsty skin drink up the nourishment it needs to fight impurities and initiate the healing process.
Wondering why your skin needs an anti-inflammatory boost? Inflammation is the source of many skin issues, such as acne, rosacea, sunspots, itching, swelling, and aging skin. Our skin-repairing recipe will help fight the aging clock and leave you with the radiant glow you deserve.
ORGANIC ESSENTIAL OILS OF ROSEMARY 
Yarok Body Wash is infused with the potent and Organic essential oil of Rosemary, which helps to protect against premature signs of aging & calm skin conditions. The rich antioxidant levels in Organic Rosemary help to nourish the skin, while the Anti-fungal, Anti-microbial, and Anti-inflammatory properties help to wash away any impurities and treat underlying skin conditions. 
Skin rejuvenation is just a shower away. 
Always 100% Plant-based. Vegan. Toxin & Cruelty-Free. 
Choose Yarok BODY. Because your skin deserves to be nourished too.
References:
1. Bhadoriya, S. S., Ganeshpurkar, A., Narwaria, J., Rai, G., & Jain, A. P. (2011). Tamarindus indica: Extent of explored potential. 
Pharmacognosy reviews
, 
5
(9), 73–81. https://doi.org/10.4103/0973-7847.79102